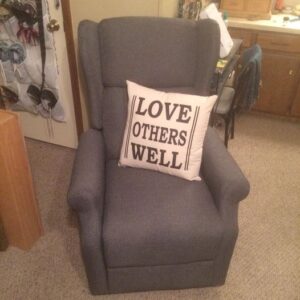 "You are weirdly excited" are the words my husband uttered as I set up this cute little power lift recliner in my bedroom. I had gotten the chair in preparation for the recovery from a complete open heart surgery. He was deeply concerned about the impending procedure and didn't understand why I had such a peace and hopeful expectation for the outcome. I get it, my response was unusual. Let me back up to the beginning to explain.
One fall day in 2017, I was doing some house cleaning when my chest began to hurt. My upper and mid back also began to hurt. And then it became painful to breathe. I'm not especially proud of the fact that I waited an hour before calling a friend to take me  to the emergency room. Once there, they gave me something for the pain which did not seem work. Then there was test after test and waiting upon waiting. Finally the doctor came in and informed me that they had no idea what was causing my symptoms. BUT, I had a thoracic aortic aneurysm that needed surgery.
The thing about the type of aneurysm I was diagnosed with is that typically there are no symptoms, and if there are, it's usually too late to do much about it. I've never had a pain episode like that since and I fully believe that God intervened and miraculously revealed a condition that wouldn't have been otherwise. And of course God's timing is always perfect. We had been without health insurance for 2 years and my husband had just gotten a new job that was going to have really great insurance, but in 90 days. Fortunately, the doctors were optimistic that waiting in 90 days would not put me in any additional danger, but that I needed to be seen as soon as our insurance began.
So in January of 2018, I stepped out of a job I loved, took a leave of absence from seminary, and my visits to the cardiologist began. In the course of my appointments it was discovered that my aortic valve was bi-cuspid instead of being tried-cuspid. I had a heart defect my entire life and it wasn't discovered until I was in my 40's. Leaving my job in preparation for surgery and recovery also meant the future was up in the air. BUT, when needed, God showed up and brought my need to light. So why wouldn't I be excited? I got to live!!! Sure, I could have fixated on the risks of surgery, or given in to fear and worry over how my education would be affected or what kind of job I might be able to find after major surgery, but I just kept resting on His word in Ezekiel 36:26 that says "I will give you a new heart and put a new spirit in you" and trusting that if He revealed it, surely He would carry me through. Now 5 years later, I am still in awe of God's grace and goodness.
So why am I sharing all of this? Well, because God's word tells us to declare His good works: "Let the redeemed of the Lord say so, whom he has redeemed from trouble."  On March 28, 2018, the Lord redeemed my heart physically, He rescued me from the trouble I would face if I didn't have the surgery.  Sharing his goodness in my life is a way of celebrating, but in challenging times it's also a reminder of who He is and how much He cares for me. When the temptation discouragement sets in we overcome "by the blood of the Lamb and by the word of [our] testimony.
I pray that somehow my testimony of God's miraculous work in my life encourages you. I don't know what you have gone through or may currently be going through at this moment but our Heavenly Father does and He loves you!! Allow your circumstances to drive you to be weirdly excited about what He is doing in your life. There is hope on the horizon when you put all of your trust in Him.
Please let me know how I can be praying for you. You can leave a comment or send me an email.
Many Blessings,
Cherry 
(thoughts for wrap up – celebrate the miracles of God, remember, testify to His goodness. )