I am on a grand adventure with the sweetest woman, Patsy Weaver. She is kind, insightful and fiercely devoted to the Lord. Her heart is to build relationships with other so that she can serve them and see them either come to know Jesus or learn to know Him better. Today I'd like to share her account of how My Story, Our Table began.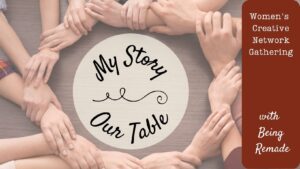 "When a friend from my neighborhood life group began to share with me that the Lord had given her a vision about opening a restaurant in downtown Sapulpa, I began to pray. Another friend came along side her and they opened, My Table Restaurant. It was their heart's desire to be a blessing to all who walked into the door of their restaurant.
So I prayed and asked God to show me how I could be of help to them. I ate there often…invited friends to eat there…shared their story with women's group I was involved in…and continued to pray….Lord, how can I help, until this idea formed in my heart and mind…My Story at My Table. It seemed God was saying invite people to come and share their stories. I began to get excited as I thought of people who might tell their story. And about who might need to hear their stories. And also how this would help the restaurant.
But I didn't really know how to get started so I continued to pray and I began talking about My Story at My Table. Then God put Cherry Fargo into the picture. Cherry and I met before My Table even came into existence. So God was already working to bring this all about. My thoughts were always about how we could reach people with God's story of redemption. So, no matter who came to tell their story, God's story would always be presented. A seed would be planted. God did not tell me to invite only believers to tell their story, even though it seems that has happened. In the future, there may be those who speak who may not be believers. Just praying and asking God to show me who to invite.
In this process, I meet with our possible story tellers ahead of time. I want to hear a little about their story and I share mine. God was clear here, though, about me letting them tell their story. It is not my story to tell but theirs. It may be uplifting to our audience or it may be that we come along side of the speaker and we encourage them. This means it is so important for this to be wrapped in prayer…always asking for the presence of the Holy Spirit.
As I shared this with Cherry, she began to lay out a great plan of how to put this into action. We would offer a package of lunch or brunch, a speaker, and a journaling activity. Cherry designed a logo, we set a date, she created a Facebook event, we lined up our speaker and we were on our way. It is still a work in process. I am so blessed that God invited me to join Him in sharing His Story. I am thankful for many who have helped and continue to help.
We now have a hospitality coordinator, Tracy, and she is an awesome planner and organizer. We all pray and ask God to direct our steps. I want this to be what He purposed in us and in those that are joining us. I want to minister to the merchants of downtown Sapulpa. I have met many of them. I want to see transformation in the merchants and people who come to our event." ~ Patsy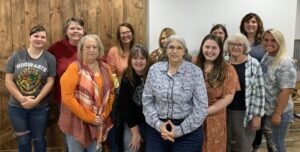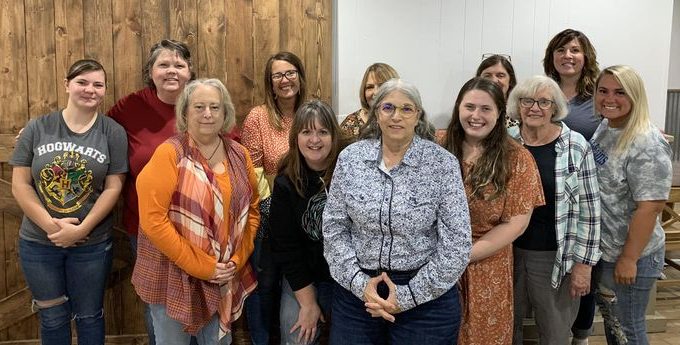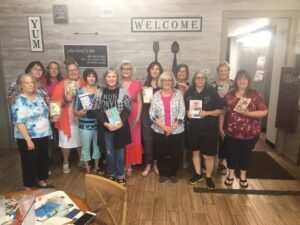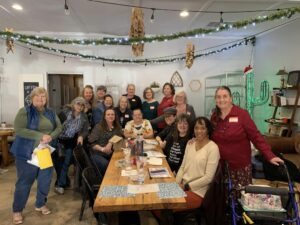 To date, we have had 5 get togethers, heard 5 amazing stories and connected with dozens of amazing guests. While My Table has since had to close, My Story is continuing on as My Story, Our Table, meeting on the second Saturday of each month from 10am to Noon at the Sapulpa Historical Museum. If you live in the Tulsa area, I hope you'll join us sometime, if for no there reason than so you can meet Patsy! I'm sure you'll adore her as much as I do! You can get your tickets to our February event
here 
.