Being Remade Life Coaching
What is Spiritual Growth Life Coaching by Being Remade?
A process of helping women evaluate their spiritual maturity and the obstacles to growth for the purpose of developing a plan to deepen their relationship with the Lord.
Who is Being Remade Spiritual Growth Life Coaching For?
Spiritual Growth coaching is for any woman who is feeling stuck in her relationship with the Lord and longing for mentorship to help her in developing a deeper and more abiding faith. No matter where you are in your walk with God, Spiritual Growth coaching can help you gain a greater understanding of who you are in Christ.
What is Spiritual Freedom Coaching?
Spiritual Freedom coaching is process of uncovering long term mindsets which interfere with spiritual growth and examine them in the light of God's truth. These mindsets often stem from childhood abuse, sexual trauma, domestic violence or other past wounds. By replacing old mindsets with the truth of God you can experience the fullness of freedom, identity and purpose that God has for you.
Who is Being Remade Spiritual Freedom Life Coaching For?
Spiritual Freedom Coaching is for the woman who feels like she has been banging her head against the wall to mature spiritually but still does not feel like she has the peace, freedom and hope she hears about or sees other women experiencing. By having a coach come alongside you and guide you, you can begin to experience the freedom Christ has for you.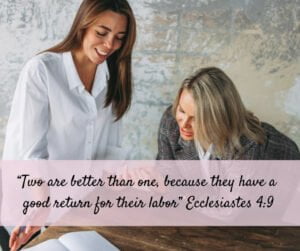 You were made for more and our mission is to encourage, empower and equip you to embrace being remade into who God created you to be. If you're not sure where to start or feel like you're the woman banging her head against a wall without making much progress, we are here to help.
We are offering FREE 30 minute discovery calls to learn if Spiritual Coaching is for you. You can schedule a call with Cherry by clicking here or with Teri by clicking here.  We look forward to chatting with you. By the end of your free session, you will have a better understanding of your spiritual strengths and weaknesses and practical steps for growing your faith.
Days and times may be limited but feel free to contact us for assistance booking a time that works for you:
Many blessings,
Cherry & Teri
*Being Remade Coaching is Biblically based and non-denominational in nature.